Bacon Sundae is a surprising winner
By Jeremy Selwyn
Chief Snacks Officer
07.02.2012

Burger King's Bacon Sundae is just latest of many recent creations by the major fast food chains that make people ask, "Are they serious?" I just ate one, so I can confirm, they are serious.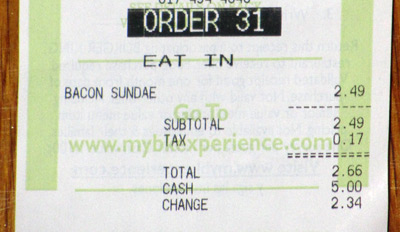 When I went to order, I figured they'd tell me that they don't have it yet, or that it was just a hoax.
But the cashier didn't bat an eye (or even make fun of me for ordering it) and just rang it up. I was surprised to see that it cost $2.49 plus tax, for a total of $2.66. That seemed expensive, but maybe that's because I rarely eat Burger King (but I do gravitate to the place every time they have a Simpsons toys promotion).
It looked quite a bit bigger than the regular sundae that they handed to the guy ahead of me, so you're probably paying for quantity of ice cream, in addition to bacon, in this case.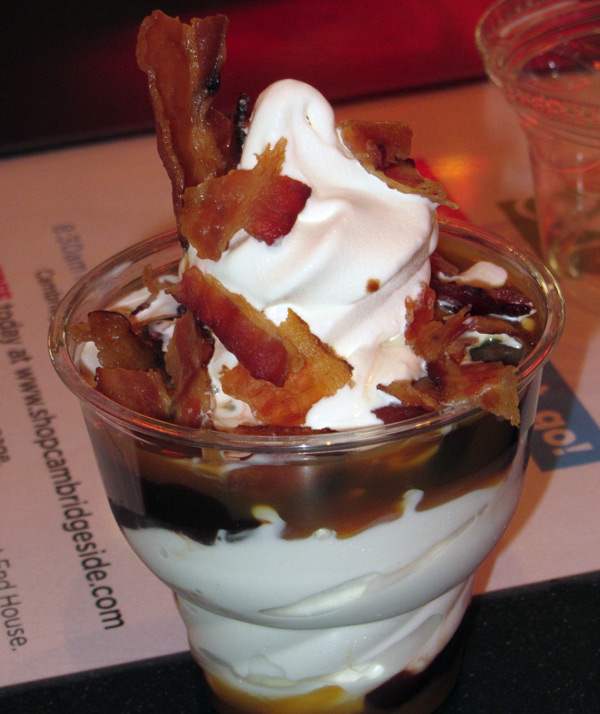 The sundae included lots of soft-serve vanilla ice cream, with lots of bacon pieces of various sizes on top, including one fairly large piece, plus chocolate and caramel sauces. My reaction on the first bite was that maybe bacon and soft-serve isn't such a good combination, just in terms of texture. The chewy piece of bacon just didn't seem right against the soft-serve. But once the tastes of bacon and ice cream started to mix in my mouth, it tasted quite good. Most of the other bacon pieces were crispier than that first one, so it got better from there.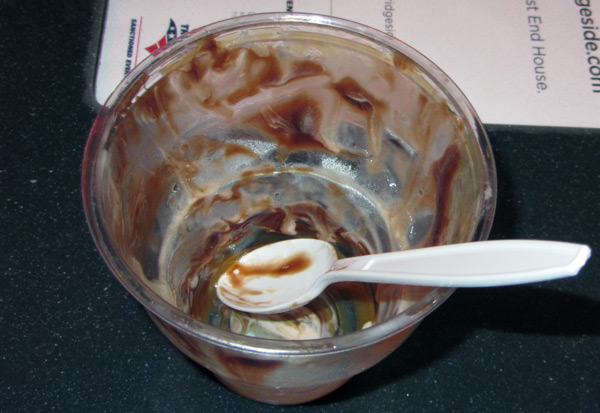 It took a while to eat all of the ice cream under that bacon, chocolate and caramel, but I did manage to finish the whole thing.
My overall impression was that this was very good, and its potential is completely tied to the quality of the bacon. With better bacon, it would definitely have tasted even better. I'm figuring that Burger King already has lots of bacon sitting around on or near the grill for use in burgers, and the freshness of the bacon is probably hit-or-miss. If they could take hot, crispy bacon right off the griddle and put it right onto the sundae, Burger King might really have something great here.
My friend Stewart, a famous doughnut eater, decided to make his own bacon sundae, rather than venture to Burger King, so he had full control over the bacon. He raved about the taste, saying it was "better than you can imagine" and "a revelation."