Surveying the best of Spring Training stadium eating
By Jeremy Selwyn
Chief Snacks Officer
03.31.2013
With baseball's Opening Day upon us, I compiled some of my favorite food moments from visits to Spring Training over the past five years.
Best Chili Dog

Many hot dog chefs have attempted the chili dog, but none have succeeded like Skyline Chili did when they sold me two chili dogs at Ed Smith Stadium in Sarasota, former home of the Cincinnati Reds. (For a picture of those cheese-drenched hot dogs and all of the ones I ate on a 10-day, 10-game Florida trip, see my Hot Dog Journal.)
I returned to Sarasota after the Reds had moved their Spring Training to Arizona and the Baltimore Orioles took over the park, but Skyline was gone. I kind of expected that, as they're a Cincinnati-area chili chain. Fortunately, among the replacements was a Baltimore specialty that also made this list, so read on ...
Best Local Specialty

After the Orioles renovated Ed Smith Stadium, they also revamped the menus. In the Café 54 concession area, they were offering hot cups of Maryland Crab Soup.
Most Informative Signage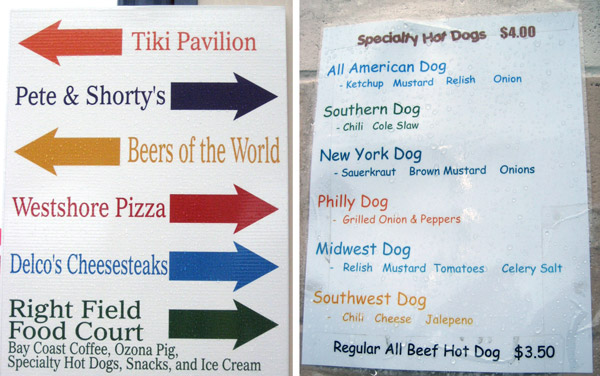 With so many food choices, finding the right concession stand can mean lots of wandering around to survey all of the offerings — or taking the risk of eating and then later discovering something else that you want to eat even more. But at Clearwater's Bright House Field, the Phillies had their priorities right, posting signs like the one on the left, helping hungry fans head in the right direction. While they were at it, they made another nice sign detailing their impressive specialty hot dog selection at one stand.
Best Baseball-themed Stadium Neighbor Sign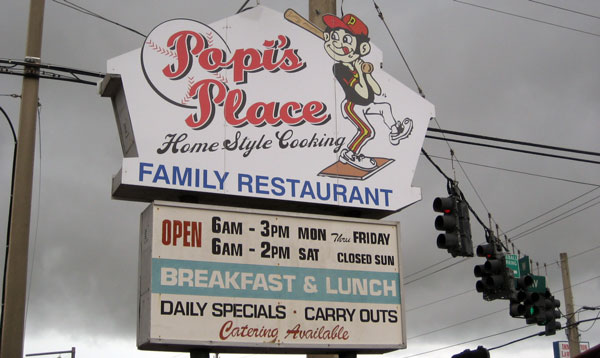 Popi's Place was immediately adjacent to the Pittsburgh Pirates' McKechnie Field in Bradenton. I didn't get to eat there, but I really wanted to. (My stomach allows only so much to be fit into my eating schedule.)
Biggest Grill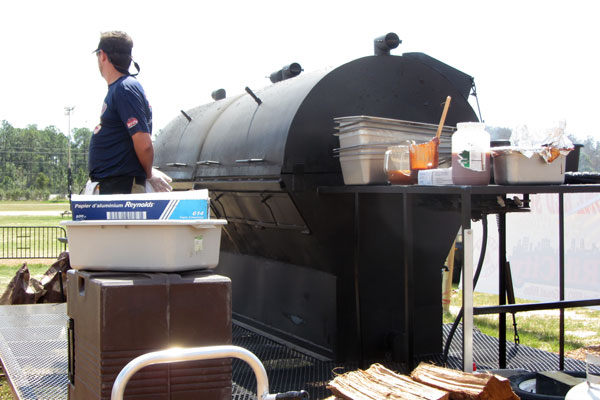 For the 2012 season, the Red Sox opened up JetBlue Park in Fort Myers, designed to mimic Fenway Park's field dimensions and draw in fans with a festive atmosphere. But the "wow" moment for me was seeing these ginormous grills from local BBQ chain Rib City. (I didn't actually get anything from Rib City, but you can read all about what I did eat there.)
Biggest Sandwich Photo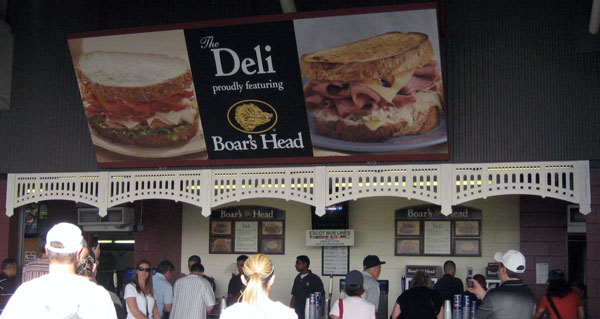 At Tampa's George M. Steinbrenner field, the Yankees had a variety of food available, but no stadium sandwiches may ever be as big as the ones seen above The Deli stand here.
Best Themed Signs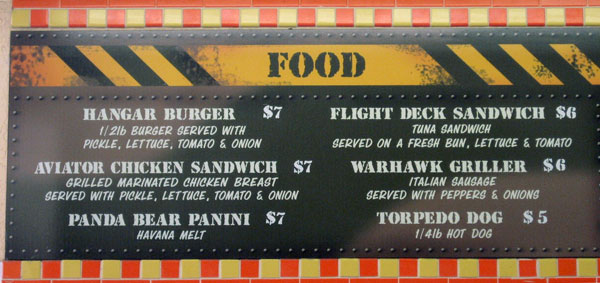 Joker Marchant Stadium is home to not just the spring training Detroit Tigers, but also the Lakeland Flying Tigers, and the military aeronautical theme extends not just to the look of the signs but also to the descriptions of the food. (They also had the longest footlong dog on record, as described in my Hot Dog Journal.)