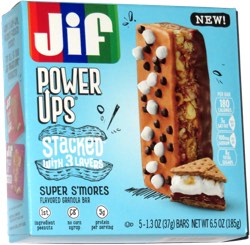 Taste test: The Jif Power Ups line continues to mystify me. This fourth version took on another new form factor, quite different from peanut butter-coated cookies and peanut butter-filled granola clusters. At least it shared the "granola bar" description with this one, yet they changed the arrangement and added a whole new trademarked sub-sub brand for the word Stacked.
The idea seemed to be that it was peanut butter s'mores — a combination I've not seen previously — and apparently unrelated to the s'mores flavor, it also contained three layers of stuff.
So what happens to your taste buds when you add peanut butter to the standard s'mores recipe of chocolate, graham cracker and marshmallow? We may never know, because Jif didn't do that here. The diagram on the back of the box described the three layers, from top to bottom, as "marshmallowy, crunchy and chocolatey," which I took, in combination with the picture, to mean peanut butter with marshmallow and chocolate pieces on top; peanuts and something to hold then together, anchoring the middle; and a chocolate coating on the bottom.
What went wrong? Where do I start? The mini marshmallows were crunchy — when have marshmallows ever been crunchy? — and didn't taste like marshmallows. There didn't seem to be graham cracker anywhere. So there was no reason to think this would taste anything like s'mores or PB-enhanced s'mores, and indeed, it didn't. The crunchiest part ended up being the "marshmallows" — which weren't even part of the "crunchy" layer. So it tasted like a peanuts, peanut butter and chocolate bar, which would be just fine, but why try to sell it as a s'mores bar?
It seems like Jif was just trying too hard with the Power Ups sub-brand, doing so many different things with it that the brand lost all focus. Was the idea of Power Ups that everyone loves peanut butter, so now famous peanut butter maker Jif is offering all sorts of different snacks made with its peanut butter? That might have worked as a concept, if not for the fact that there lots of peanut butter-based snacks already — we've reviewed 330 kinds — so Jif entering this market doesn't seem all that exciting, and in less than two months, the Power Ups name has already been spread so thin as to be meaningless.
If they had started and ended this initiative with the excellent granola clusters, or even different flavors of that same form factor, I'd be applauding.
Shop: Buy chocolate on Amazon #ad
Smell test: Smells like peanuts and chocolate.
From the package: "Say hello to Jif Power Ups® — the delightful snack that starts with peanuts. Packed with goodness and go-to deliciousness, these Jif Power Ups® Stacked™ Granola Bars will brighten your day and give everyone plenty to feel good about. "
Online store: Buy chocolate on Amazon #ad
Company: J.M. Smucker Co.
Categories for this snack:
This snack was discovered at Shaw's at Boston University. Review published October 2019.