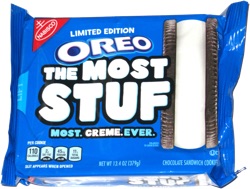 Taste test: Much as scientists have observed that the expansion of the universe is accelerating, we at Taquitos.net have observed that the expansion of the Stuf inside Oreo sandwiches is accelerating.
Oreos originated in 1912, and then not much happened for a long time. It took all the way until 1974 to invent Double Stuf Oreos (which, despite the 62-year delay, didn't have quite twice as much Stuf). Then there was another long lull in innovation, with a delay of nearly 40 years until Mega Stuf (which came far short of 1 million times as much Stuf) landed on store shelves in 2013. But now, less than six years later, this product arrived. The name didn't specify an actual multiple of Stuf for them to miss this time, instead just making the comparative claim that it was the most of any of them. (The name does back Nabisco into a corner if they ever decide to make an Oreo with even more Stuf.)
That claim was simple to verify upon opening the package. These Oreo cookies had quite a lot of Stuf in between them. There were 18 sandwiches in the 13.4-oz. package, with just six in each of the three rows. (There was room for a seventh per row, but it would have been tight.) In most of the sandwiches, the filling looked like it had been applied as two distinct layers, with sort of a crease in between. Total thickness varied, but the thickest parts of the thickest sandwiches measured about 3/4 inch.
For my taste test, I poured myself some milk and ate two of the sandwiches, first without milk and then alternating bites and sips. The vast amount of Stuf definitely altered the balance of chocolate to creme, as I could still taste chocolate, but it was kind of swimming in that delicious creme. There was so much creme that when I bit in, some of it got squeezed out of the edges of the sandwich, which I never noticed happening with any of the Oreos with less Stuf. I liked it with milk, but the milk seemed less necessary than with standard Oreos. If the point here was to satisfy folks who wish there was an even higher Stuf-to-cookie ratio than Mega, they succeeded — and it didn't seem like too much creme. But if you're really looking for a good chocolate rush, you might want to stick with one of those kinds with less Stuf.
Shop: Buy Oreos on Amazon #ad
Smell test: Mostly the standard Oreo smell, but it seemed like the creme part was stronger than usual.
From the package: "Limited Edition" ... "Most. Creme. Ever."
Online store: Buy Oreos on Amazon #ad
Company: Mondelez
Categories for this snack:
This snack was discovered at Shaw's. Review published January 2019.