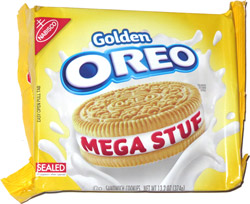 Shop for snacks: Buy Oreos at Amazon.com
Taste test: Much like the non-golden Oreo Mega Stuff, this beige-and-white version had more "stuf" between the two cookies than a double-stuf Oreo, but really not that much more, and not nearly enough to justify the use of the word Mega. We've reviewed lots of variations of the Oreo cookie, including a Golden version of the Fudge Cremes with birthday cake filling and chocolate fudge coating, but until this, we'd so far avoided the plain, chocolate-free Golden ones.
We crunched in to find that the filling was sufficiently abundant and remotely liquidy that it tended to get squeezed out the sides, as also happened on the chocolate Mega ones. The taste was better than I expected, at least for the first few cookies, with a good balance of sweet frosting and cookie, but by the time I got to my fourth cookie, it did seem a bit too sweet. Unless there's some compelling reason that you can't have a regular chocolate Oreo, we'd recommend sticking with those. They're better than these.