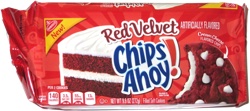 Shop for snacks: Buy snacks at Amazon
Taste test: This version of Chips Ahoy was made from a brownish red dough that really did look like Red Velvet cake (though it was more brown and less red than shown on the package), with some white chips (described as "cream cheese flavored chips") embedded inside.
I bit in to find that the chips were not the only white thing — there was also a layer of white creme inside each cookie. The texture was both moist and crumbly, much like other soft versions of Chips Ahoy, but that's not really a particularly a good texture. The taste was a mix of cookie and Red Velvet cake, and the creme and chips did bring a hint of cream cheese to the mix.
I shared the cookies around with some friends, and they found some fans, but some people noticed that the aftertaste wasn't as good as the initial taste, so we'd recommend having the cookie with a a glass of cold milk.