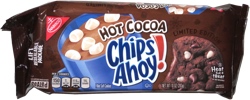 Shop for snacks: Buy snacks at Amazon
Taste test: This special edition of Chips Ahoy tempted me by promising the taste of my favorite hot beverage, so I went against my best instincts (not to buy limited-edition Chips Ahoy, based on past experiences) and got them. I opened the package to find that the cookies were brownie-colored, with some small, white, marshmallow-looking things embedded inside. The cookies were even darker than the one pictured on the package, and I didn't even notice the chocolate chips until I saw the ones pictured, which were much more distinct and nicely formed than the real ones.
The feel and taste weren't at all like standard Chips Ahoy. It didn't occur to me at first that the chocolate tasted like hot cocoa, but after a few bites, the mix of chocolate and marshmallow did seem somewhat similar to a mug of hot chocolate with rehydrated dehydrated marshmallows. Not bad, and far better than your average limited-editon Chips Ahoy.
The package recommended heating up each cookie for 6 to 7 seconds in the microwave, so I tried one for the full 7 seconds. It was definitely softer that way, though not quite melty, and maybe a little tastier too. I noticed while eating that one that there was a thin layer in the middle of the dough that seemed to be made of marshmallow substance too.