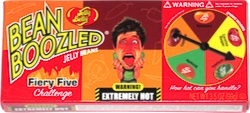 Taste test: Jelly Belly has done several series of Bean Boozled, each pairing up beans that look the same but aren't — one's got a normal flavor, and the other is something weird. To know which is which, you must eat!
They kept the Bean Boozled name for this product but actually changed things up, offering five different hot flavors, promising major heat in increasing levels of intensity, but not intending to conceal the actual flavors. The five types were all mixed together in a single bin, and adjacent to it, there was a spinning wheel to force a choice on which one to eat.
Wheel or no wheel, my plan was to start at the bottom and progress up the heat scale. But eager to try something, I just ate one of the green Jalapeño pieces before I noticed the heat scale, figuring that all of the other flavors sounded hotter than Jalapeño. It had a definite jalapeño flavor and a pretty strong kick of heat.
Then I saw that the sides and bottom of the box had a temperature scale that defined the relative heat levels of the five flavors. It turned out the Jalapeño was the second coolest — to start at the bottom, I should have eaten Sriracha.
This brings me to my second mistake. I carefully (I thought) reviewed the color key, which had Sriracha as a consistent red; Jalapeño as dark green with light green splotches, kind of like a watermelon; Cayenne as dark red with some lighter red splotches; Habanero as orange; and Carolina Reaper as red with black splotches. I grabbed a piece that looked to be all red, examining it enough to be pretty confident that I had a Sriracha piece. I bit in to find kind of a fruity flavor to start, followed by rapidly increasing heat to the point that it was the second-hottest snack I've ever eaten, just behind Paqui's One Chip Challenge Carolina Reaper Tortilla Chip. It was really, really hot — so hot that I got whatever was left of the piece out of my mouth to curb the suffering (which didn't really help). So either the Sriracha was much hotter than the scale indicated, or I got the wrong one. And as I gulped down lots of chocolate milk (to little avail, as the heat roared back) and reviewed the color chart, it became clear that it was not a Sriracha bean at all — it was the Carolina Reaper. It took a good 15 minutes for the heat to recede fully — and that was after eating less than one full jelly bean!
Looking again at the actual beans and the ones depicted on the package, the Sriracha ones had a duller shade of red than the bright Carolina Reaper ones, in addition to lacking the black splotches. The source of my confusion might have been that the spinny wheel shows Sriracha against a green background, giving the illusion of a brighter red. Probably the one that I ate had the bright Carolina Reaper shade of red but had few or no black splotches. Confusion over the mixed signals Bean Boozled me!
With a better understanding of the color key, it was Take 2 for Sriracha. This was a tasty one, with strong hints of the sriracha flavor and some definite heat, but less of it than any of the ones already eaten, putting it on its proper place on the scale. A good one.
Moving next up the scale to the center, it was time for Cayenne. Since these were dark with red splotches, I was really hoping that I could avoid any ambiguity between these and the Carolina Reaper, red with dark splotches. I think I got the right one — it was pretty darn hot, but quite a bit less hot than the Carolina Reaper.
Finally, Habanero. The orange color left little ambiguity on identifying this one from a distance, but when you look at the tub of beans more closely, the dull red Sriracha looks like it fits in between the orange Habanero and the red Carolina Reaper — a reminder to all to be careful. I bit in to find that Habanero lived up to its name as a very hot pepper. Yes, this one kicked me in the face. But even with its extreme heat, Habanero was very significantly less hot than Carolina Reaper. Despite my reaction to the heat, I could also taste the signature habanero flavor.
Summing things up, Jelly Belly delivered some impressive heat in this package, living up to all of the packaging's hype, and the different flavors progressed hotter just as intended. One funny thing is that the Nutrition Facts defined the Serving Size to be 27 beans, for 110 calories. That seems highly unlikely, especially considering that 27 beans would include about five Carolina Reaper beans. For each of the flavor samples that I did to write the review, I ate exactly one piece, waiting until a separate tasting session before moving to the next flavor. Unless you're a serious, serious firehead, you probably shouldn't plan for this to be a filling snack and should have something else available to satisfy your hunger!
Shop: Buy Jelly Belly on Amazon #ad
Smell test: The whole lot of them together, little to none. Definitely not reflective of the heat when eating them.
From the package: "Warning! Extremely hot" ... "How hot can you handle?" ... "Not intended for children under 13 years of age" ... "singe taste buds and burn memories to last a lifetime" ... "DO drink milk, eat ice cream, rice, honey or even lime to extinguish the burn."
Online store: Buy Jelly Belly on Amazon #ad
Company: Jelly Belly Candy Company
Categories for this snack:
This snack was discovered by Jeremy at Five Below. Review published January 2021.