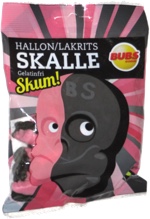 Shop for snacks: Buy snacks at Amazon
Taste test: These pieces of licorice had a rather unusual shape — particularly as licorice goes — with each formed into a skull, complete with crossbones covering the mouth. They also had an unusual color split, divided between pink and black, with the line of division within the uniform shape varying from one piece to the next.
With some help from Google's translator, we determined that the flavor of the pink side was supposed to be raspberry. We bit in to find a soft, chewy feel and a taste that was mostly a mild black licorice. There was probably a hint of raspberry too, but not a super strong one that I would have specifically identified if not for the translator. A fun shape and a good taste!