10.14.2020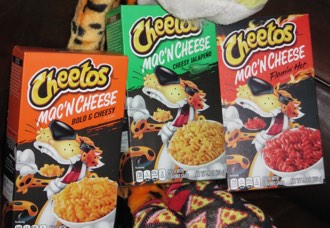 The Cheetos empire expands to another supermarket aisle, with kits to make three different flavors of Mac & Cheese.
Fire up the stove for three new products from Chester Cheetah
10.04.2019 Takis have enjoyed impressive growth in the snack world, with aggressive new flavors, and now the Blue ones are Taquitos.net's most popular snack review.
Moon Lodge's "Shabangs" unseated as most popular review
09.17.2019

Bringing together some changes we've seen in global versions of Lay's, Frito-Lay has revamped the logo for its flagship Lay's brand.
A new look for the biggest brand in potato chips
11.27.2018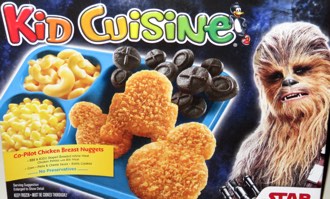 Would you believe chicken nuggets, corn, mac & cheese and cookies?
New frozen-aisle meal reveals Star Wars secrets!
07.19.2018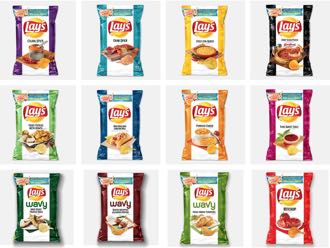 As I unravel the details of this this year's Lay's flavor promotion, things sure seem a bit twisted.
A closer look at Tastes of America
09.22.2017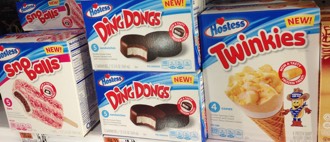 I was surprised and thrilled to spot Ding Dongs and Twinkies in the frozen aisle.
Hostess expands its empire into the frozen aisle
02.02.2017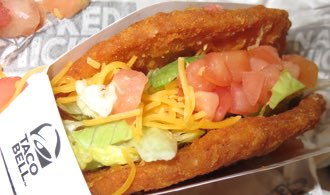 The tortilla shell has gone away! This new item from Taco Bell is enclosed entirely within fried chicken.
Taco Bell delivers the Naked Chicken Chalupa
11.23.2016 Happy Thanksgiving, and here's hoping for many more turkey chips to come!
Obscure flavor finally gaining popularity
10.12.2016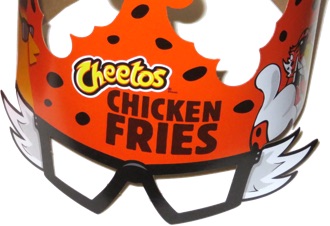 I think it's a good thing that they keep finding new ways to give various Cheetos products an ever-increasing share of people's diets.
Cheetos Chicken Fries join the Burger King menu
09.15.2016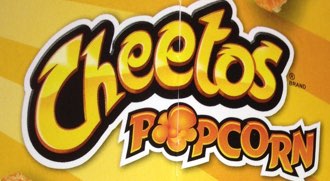 Whoever though of mixing together Cheetos and cheese popcorn and selling it at the ballpark is a genius!
Chester Cheetah brings cheese snacks to a new level
07.12.2016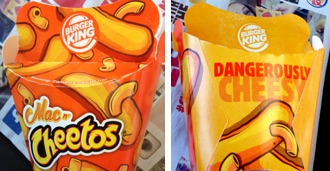 Fast food's latest gimmick is a Cheetos-shaped, supposedly Cheetos-flavored, deep-fried mac & cheese.
Burger King and Cheetos team up!
04.04.2016 The Boston Red Sox are swapping out one big snack company for an even bigger one as the 2016 baseball season begins.
It's a changing of the chip this baseball season!
01.22.2016
We've reviewed a lot of Oreos in odd flavors, but this time we got to try some Oreos in a whole different form.
Sandwich cookies take a whole new form
12.24.2015 Two youngsters try out Lunchables Dirt Cake and share their views on Dirt Cake and other topics.
Lunchables becomes lunch for two youngsters
11.26.2015 Turkey, gravy, cranberry sauce and pumpkin pie can all be obtained in snack form!
You don't need to cook on Turkey Day
11.11.2015

I plan to eat at least one piece of edible Star Wars merchandise each day until the new movie is released!
Eating up Star Wars hype!
08.25.2015

Having recently eaten (part of) a Ghost Pepper, I needed to see how Taco Bell made use of this extremely hot pepper.
Dare Devil Grillers promise three levels of heat
06.18.2015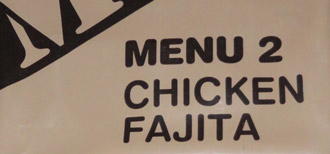 The Meal, Ready-to-Eat has revolutionized military eating. How does one actually prepare them, and how do they taste?
Taste-testing modern military rations
09.19.2014 English author Danny Boy Bent strikes back to defend Pickled Onion Monster Munch after Taquitos.net listed it among the Worst Chips Ever.
A proud English snacker declares that Pickled Onion Monster Munch belongs nowhere near the list of Worst Chips Ever — it's truly the best of all snacks
07.02.2014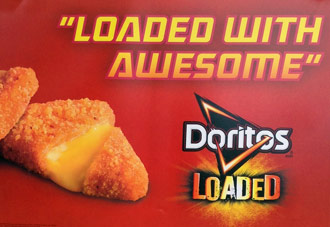 Doritos have taken yet another new form. They are selling Doritos-flavored, Doritos-shaped fried cheese at the world's largest convenience store chain. So we ate some.
Are the Doritos version of mozzarella sticks really loaded with awesome?
07.25.2013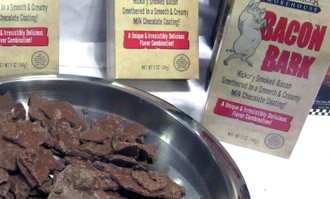 The annual Summer Fancy Food Show in New York was a great showcase for lots of savory and salty indulgences
Thousands of food companies show off their best (and we eat lots of it)
07.12.2013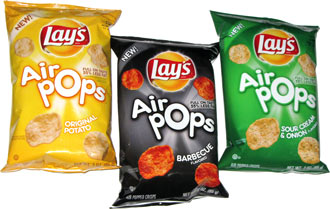 Frito-Lay has joined the parade of companies selling snacks that seem to very closely resemble the increasingly popular Popchips.
Lay's Air Pops are the latest imitator
03.31.2013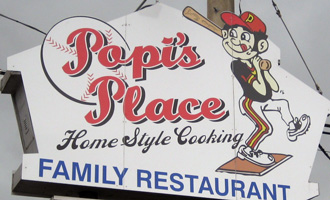 With baseball's Opening Day upon us, I compiled some of my favorite food moments from visits to Spring Training over the past five years.
Surveying the best of Spring Training stadium eating
03.27.2013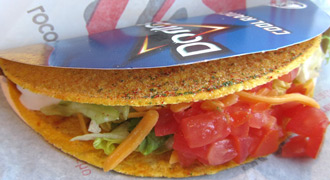 After a frustrating but tasty experience with the Nacho Cheese flavor of Locos Tacos, I returned to Taco Bell to try the highly anticipated Cool Ranch version.
Locos Tacos now available in two flavors
02.28.2013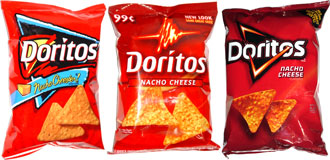 Frito-Lay has given their Doritos bags a new design for the first time since 2006.
A new image for the most popular tortilla chip brand
09.03.2012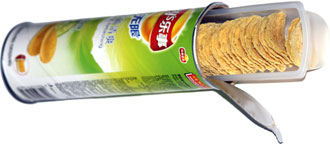 They've invented another way to let you eat as many canned crisps as you want while avoiding the risk of getting your hand stuck in the can.
Another way to avoid getting your hand stuck
08.28.2012 When I saw a sign promoting milkshakes at a store that didn't have an ice cream counter, I discovered Cold Cow's one-step milkshake system.
Cold Cow's special setup simplifies shake-making
08.22.2012 A brief visit to Los Angeles had to include my first visit to the famous Pink's hot dog stand.
Hollywood institution combines special recipes, long lines
07.26.2012 This fairly ordinary-looking Boston-area ice cream truck teased with its name and pleased with its huge ice cream sandwiches.
Not your typical slider
07.10.2012 Ketchup and fries go together perfectly. Does using gourmet ketchup make it an even better combination? We try two kinds.
Tasting two fancy ketchups
07.02.2012 Do bacon and soft-serve ice cream go together? We might never have known if the creative folks at Burger King hadn't added an item to their menu that combines the two.
Bacon Sundae is a surprising winner
05.08.2012 Just when I was starting to think there might be limits to the number of ways that I can eat chocolate, I found a (socially acceptable?) way to have it on my bagel.
Philadelphia makes cream cheese even better
04.30.2012 Hot dog stand at Oahu's Makaha Beach Park offers tasty dogs in a great location between the beach and the mountains.
Beachside stand serves a good chili dog
04.27.2012 Will kids (and their parents) like the animal sounds emanating from this bowl/spoon/digital noisemaker?
Electronic bowl promises to make eating fun
04.12.2012 Don't you hate it when your hand gets stuck in a Pringles can? A new innovation from China may have solved this problem.
Chinese version helps keep your hand out of the can
04.11.2012 A chip-hunting trip to a new Wegmans turned into an opportunity to try their special hot dog recipe.
Lunch at Wegmans Food Bar
04.02.2012 A drive through Miami Beach brought me to La Perrada de Edgar, which fixes up its hot dogs with a wide choice of internationally themed combinations of condiments.
La Perrada de Edgar's international array of hot dogs
03.30.2012 When the worlds of Doritos and Taco Bell collided into the Doritos Tacos Locos, I just had to get some. But this purchase didn't go so smoothly.
Another adventure at Taco Bell
03.28.2012 I traveled to Fort Myers, Florida, to check out the new Red Sox spring training park and feast on the latest in ballpark food.
Exploring food options at Fenway South
08.15.2011 Our snack hunters found some flavors that probably aren't available at any of your favorite snack stores, and we even try to eat them in this video.
The Snacking Hour hosts try some unusual Pringles
07.31.2011 When we founded Taquitos.net, finding 5000 snacks wasn't even on our minds, but now we've done it — and had a lot of fun along the way.
5000 snack reviews, and we're still hungry!
05.20.2011 The annual gathering of the Snack Food Association is a magnet for the creativity of the flavor creators.
New flavors that might be coming to a chip bag near you
10.27.2010 How can chocolate milk not taste like milk chocolate? I have no idea how they did it, but one company really is making dark chocolate milk.
Cocoa Metro takes my favorite beverage to the Dark Side
05.28.2010 We take a taste of the most controversial sandwich in recent memory, offering two strips of bacon and two slices of cheese enclosed within two slabs of fried chicken.
Who needs bread when you've got fried chicken?
01.22.2010 There are few things in the world that have ever impressed me as much as this creation from the most brilliant minds in chocolate and peanut butter.
Reese's outdoes itself with World's Largest Reese's
12.21.2009 I've long believed that chocolate milk made from powder or syrup can't come close to the taste of premixed. But thanks to my new toy, I'm not so sure.
Hershey's Tornado Action Chocolate Milk Mixer
11.24.2009 After a day and a half of discussion, we followed through on a plan to rescue a stuck bag of Lay's from the vending machine. Check out the video.
Bag of Lay's no longer in vending machine limbo
11.23.2009 The best thing to happen to ice cream lately comes from an unexpected source: pretzel company Snyder's of Hanover.
Pretzel cones are the perfect way to eat ice cream
11.10.2009 Friends vacationing in Greece loved the oregano-flavored potato chips, but now that they're home in the country where potato chips were invented, this flavor is unavailable. Let's right this wrong.
Oregano potato chips available in Greece but not the USA
10.12.2009 I've run three half marathons this year, with steadily improving times. I've trained better, but some of the credit definitely goes to my new favorite pre-race meal.
Improved road racing times linked to fried chicken
09.27.2009 The 4th annual "What the Fluff?" festival honored Fluff inventor Archibald Query by giving visitors many opportunities to eat and play with the sticky stuff.
Fair honors our favorite marshmallow spread
09.15.2009 For my latest adventure in the frozen aisle, I check out what happens when Eggo waffles go exploring the final frontier.
Can waffles get even better with Star Trek characters?
05.05.2009 I've eaten and reviewed a lot of potato chips, so I know what I like and what I don't like. But I've always assumed that if I ever tried to make my own chips, the results would be terrible.
Chip critic takes the Create-A-Chip Challenge
04.05.2009 During a whirlwind tour of Spring Training games along Florida's Gulf Coast, I attended 10 games at nine different ballparks and ate at least one hot dog at each park.
10 days, 10 games, 10 hot dogs
02.27.2009 Jim's always been known as an accomplished eater, but can he impress us with his consumption of beverages as well?
Jim takes the Pepsi Challenge
02.23.2009 In today's tough economic times, can you justify spending $35 on a brownie pan?
Edge Brownie Pan is snacking stimulus that you can sink your teeth into
01.13.2009 The new potato crisp flavors that Walker's is selling in Britain sound quirky enough to impress our Secretary of Snacks.
Contest lets public pick new snack flavors
01.07.2009 Taquitos.net's cheese puff expert Keith Shaw is challenged to identify six kinds of unlabeled cheese puffs and cheese curls.
Is he really a Cheese Puff Wizard?
12.29.2008 Taquitos.net's Chief Snacks Officer and Secretary of Snacks square off on Pop-tarts, 100-calorie packs and double dipping. From the premiere episode of The Snacking Hour.
The Snacking Hour takes controversial issues head-on
12.22.2008 In the first-ever Taquitos.net YouTube Video, The Snacking Hour travels to the Spencer Fair to explore the world of fried dough.
Taquitos.net meets YouTube
12.16.2008 "Snuggie" claims to significantly ease the snacking process for those who choose to snack while under a blanket.
Will Snuggie change the way that you snack?
11.29.2008 Lab tests found that "salty snacks" aren't necessarily the source of a lot of the salt that people are eating.
Consumer Reports lab tests find salt in all kinds of foods
11.27.2008 While most people fill up on turkey, mashed potatoes, stuffing and cranberry sauce on Thanksgiving, we want to remind you to leave some room for snacks.
Don't fill up on turkey, folks
11.25.2008 A recent trip to the vending machine turned out to be a special experience for our cheese puff connoisseur.
Cheetos get all the love
11.21.2008 Like them or not, the introduction of McNuggets by McDonald's in 1983 transformed chicken.
McNuggets now old enough to rent a car
10.01.2008 I eat Chick-fil-A. I know Chick-fil-A. Chick-fil-A is my favorite fast-food restaurant. And you, McDonald's, are no Chick-fil-A.
Southern Style Chicken Sandwich just doesn't match up to a Chick-fil-A sandwich
09.16.2008 Big bucket memories and boneless chicken collide.
Bringing the 11 herbs and spices to the chicken strip
09.14.2008 We've sure eaten and reviewed a lot of snacks in the past 8 years. Let's put the numbers in perspective.
Taquitos.net posts 4000th snack review
09.09.2008 Taco Bell's latest creation, the Volcano Taco, had a little something extra that caused an unexpected reaction.
Taco Bell's menu erupts with the Volcano Taco
08.08.2008 The folks at Kernel Encore recently sent us 10 bags of popcorn, but the big surprise was the way that they packed it.
Kernel Encore's shipping method stands out
06.02.2008 When Wise announced that the David Ortiz-fronted Snack Squad was coming to Boston to share their potato chips and other snacks, I went on a quest to find the legendary Snack Squad.
What's a Snack Squad, and where are they? I had to find out
05.06.2008 Eggo has tried to bring Elaine Benes's muffin tops to your supermarket, but some essential elements definitely got lost on the way to the frozen aisle.
Seinfeld's invasion of the supermarket continues
01.30.2008 In his search for the "inner Bill Belichick" ESPN's Sal Paolantonio asked what we wanted to know about the Patriots coach: What does he snack on?
Patriots coach shares his favorite snacks
01.22.2008 In its list of things that don't suck, Wired praised one of our favorite flavors of potato chips.
Wired magazine has good taste in chips
10.24.2007 Taco Bell's stolen base promotion for the World Series is the dumbest marketing idea ever.
Free tacos may not be worth the price
07.31.2007 H.P. Hood and the Boston Red Sox have teamed up to sell four great ice cream flavors that are sure to be a hit with baseball fans.
One more reason to be a Red Sox fan
07.10.2007 As Homer Simpson would say, 100 calorie snack packs are all about the al-ighty ollar.
The latest snack fad: offer less, charge the same or more
06.20.2007 Where's the beef? It's definitely at Wendy's, with the addition of the Triple Stack burger and the 830-calorie Baconator to the menu.
Triple Stack, Baconator and new buns equal beefy goodness
06.06.2007 Doritos fans picked Smokin' Cheddar BBQ over Wild White Nacho in the "Fight for the Flavor" contest, so this great new flavor has lost its "limited edition" status.
The people have spoken, and the results are delicious
05.16.2007 A new contest from Doritos lets customers name a newly released, but as-yet-unnamed Doritos flavor, which currently is being sold with the name X-13D.
Wordsmiths and tasters unite!
05.13.2007 Utz, Wise and Old Dutch have become part of America's pastime with their potato chips billboards at Major League Baseball stadiums.
Major league parks go for the chips
03.16.2007 Get your tacos and chalupas quicker
A wave of the hand and you'll get a burrito ...
03.06.2007 The worlds of snacking and illicit trading of material nonpublic information got together for a big Wall Street scandal.
What do tortilla chips and ill-gotten stock profits have in common?
03.02.2007 NBC's hit sitcom is as serious about snacks as we are, with one episode tracking Jim's quest for a bag of Herr's Salt & Vinegar chips.
Get a close-up look at Dunder Mifflin's vending machine
02.11.2007 Fed by my obsession with taquitos and a little prodding from Ricardo Montalban, I ventured to Taco Hell to try out their new menu item.
World's largest Mexican chain expands its menu
01.16.2007 The final numbers are in from Taquitos.net's Department of Statistical Statistics, as we have totaled up most popular snack reviews for all of 2006.
Snackers vote with their mice for the most-read reviews of the year
01.10.2007 Taquitos.net's Chief Snacks Officer and Secretary of Snacks returned for a fifth appearance on the Phantom Gourmet television show, and we brought the Taquitos.net digital camera to share some pictures from the Phantom/WBZ Studios.
Our chiptasters make a return visit to Phantom Gourmet
01.03.2007 McCormick announces top "flavor pairings" for the year — and guess what, McCormick makes a lot of these flavors.
Flavor combinations that make more sense than Wasabi and Maple
01.01.2007 The year 2006 is over, it's time to make your first resolution. Forget about losing weight or other wussy resolutions. This year you should resolve to eat more crunchy, sweet or salty snacks. We can help.
A new year, a time to make a fresh start and try new snacking opportunities
12.21.2006 Forget sweaters, socks, fruit pie, electronics or the latest Elmo toy. This year, get 'em some potentially delicious snacks.
Simplify Christmas shopping by getting everyone snacks
09.21.2006 Travel back in time to a great Calvin and Hobbes strip where Calvin's dad has a heck of a time dealing with the complexity of the chip aisle.
Maybe potato chips always were this complicated
08.31.2006 KFC managed to ruin a potentially good new menu item when they forgot a basic law of science.
KFC's Famous Bowls take a good idea and ruin it
08.20.2006 Despite the weirdness and questionable nutritional value, sometimes there's something about Lunchables that makes me want to buy them.
Oscar Mayer Lunchables Tacos add the Pop Rocks factor
07.18.2006 With the first Krispy Kreme in Massachusetts now unfortunately defunct and vacant, we were psyched to see that Kelly's Roast Beef will be moving in.
Kelly's Roast Beef steps up to fill a void
07.14.2006 The newest show on cable features Taquitos.net's snack tasters talking about our favorite subject: Snacks.
Finally, it's 57 channels and something on
05.21.2006 Like playing with your food? A new Lego-branded version of Eggo Waffles promises to be both a breakfast and a construction kit. We tested it out to see if it's as much fun as it sounds.
New waffles encourage you to play with your food
05.04.2006 Is annoying singing and 'cute' size ordering worth it?
I scream, they sing, for ice cream
05.01.2006 What's cooler than a handful of Goldfish crackers? A truck shaped like a Goldfish cracker, wearing sunglasses.
Meet the Goldfishmobile
04.24.2006 When I saw the box of chicken sticks with "Potato Chip Breading" I knew that I had to try them.
Barber Foods offers Chicken Sticks with Potato Chip Breading
03.16.2006 Despite their lousy commercials, Taco Bell has hit another home run with its Chicken Caesar Grilled Stuft Burrito sandwich.
Who'da thunk that this would taste so good?
03.14.2006 All of a sudden, many of the major snack companies are rolling out whole grain versions of their popular snacks.
Snack companies rushing to catch the Whole Grain bandwagon
03.06.2006 Once a year, McDonald's teases us with the deliciousness of the Cherry Pie, then they steal it away. Take me back to the '70s!
Get yours before they go!
02.24.2006 The MooBella Ice Cream System fills our craving for instant hard-packed ice cream and mix-ins, and no annoying singing.
MooBella, we think we love you
02.22.2006 Taco Bell brings back a fast-food favorite: A supreme taco wrapped in a crunchy and chewy shell.
Geometry and tacos together at last
02.12.2006 Nestle makes good on our complaint regarding a weird-looking Nestle Crunch bar.
All is Well in Chocolate Land
02.10.2006 Candy companies could do better than taking the same old candies and making them in new shapes for various holidays.
The candy industry isn't even trying
02.01.2006 My Nestle Crunch bar looked wrong. Very wrong.
Will Nestle respond to my complaint?
01.27.2006 Need suggestions on what to eat while watching the big game? Check out our Pittsburgh- and Seattle-related snacking recommendations!
It's not whether you win or lose, it's how you snack
01.04.2006 Frito-Lay has revealed a lineup of potentially delicious new snacks scheduled to hit stores during the course of the new year. Here are some initial thoughts.
Frito-Lay's new snacks for 2006
12.08.2005 Just two and half years after celebrating the first Massachusetts Krispy Kreme's opening, the store has gone out of business.
Medford loses its landmark Krispy Kreme location
11.23.2005 It's Thanksgiving. Where are the turkey chips?
Thanksgiving is time for turkey chips
11.12.2005 What's the deal with the warnings on the free Kellogg's cereal bowls?
Kellogg's free cereal bowls come with a warning
10.24.2005 Keith investigates the mystery of the shrinking Wendy's combo meal fries.
Wendy's has shrunk my Biggie! (sort of)
10.17.2005 The cheese powder is already nuclear orange, so why not just nuke your mac and cheese even faster now?
Getting your mac and cheese fix even quicker
10.08.2005 Real fast-food chains should follow the lead of the fictional Taco Town's latest menu item.
Taco Town rules!
10.01.2005 Some think it's disgusting, but Keith is obsessed with Smucker's Goober Grape, which combines peanut butter and jelly in one jar.
Why Smucker's Goober Grape Rocks!
09.28.2005 If you're traveling to The Big E, save plenty of space in your stomach for the vast variety of delectable foods.
Plenty of food choices at The Big E in Springfield