Top snack types
Top snack flavors
Crunch News Network
No tuna in Subway's tuna sandwiches and wraps, lawsuit claims
Debate rages over whether single speeding Cheeto could destroy International Space Station
Hot Pockets recalled over potential glass and plastic contamination
I Recommend Eating Chips
full story from The New York Times
Why potato chip giant Utz just spent nearly $500 million to get into tortillas and stuffed pretzels
What We're Eating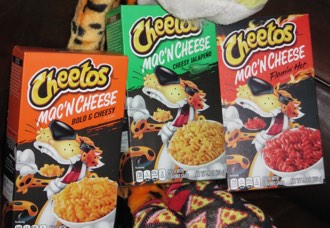 The Cheetos empire expands to another supermarket aisle, with kits to make three different flavors of Mac & Cheese.
Takis have enjoyed impressive growth in the snack world, with aggressive new flavors, and now the Blue ones are Taquitos.net's most popular snack review.
Simpsons Snacking!
Homer is our culinary hero! So we've compiled quotes from the Simpsons about snacks, breakfast, lunch, eating out, drinking and more.
Snacking with the Simpsons