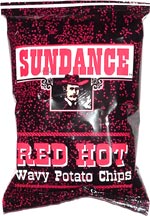 Shop for snacks: Buy potato chips at Amazon.com
Taste test: These are good chips, and they're quite hot. They've got wide ridges and lots of flavor powder. When you take your first bite, you get some strong barbecue flavor but not really any heat. That lasts about a second, and then the heat starts to kick in. Then it grows. And grows. And grows some more. Then you go running for a cold beverage. The major problem with these was how few chips there were in the large 1-oz. bag. It was on average 2/3 empty in each of the six bags we tried. (We also tried three other kinds of Sundance products — hot popcorn and two kinds of corn chips, and those bags were far more generous.)
Aroma: Good spicy, sort of paprika-like, smell.
Manufacturer: WPC
Online store: Buy potato chips at Amazon.com
From the package: "The Untold Story as related by Marshall Mac Snacker: Now y'all know the Sundance Kid was one of the Old West's williest bank robbers, right? How could a small time Marshall like me catch the most wanted bank robber in the West you ask? WAVY POTATO CHIPS! Yep, that's what I said, "WAVY POTATO CHIPS"! An Indian Brave told me Sundance loved to pow-wow with Chief Big Chip because the Chief had a secret recipe for the best doggone WAVY POTATO CHIPS anywhere, which kept Sundance comin' back for more! So I spread the word that Chief Big Chip would be movin' a wagon load of WAVY POTATO CHIPS along with his secret recipe to town. Me and the boys set up an ambush, and sure enough, that varmint Sundance couldn't resist the lure of this favorite wavy potato chips. Sundance walked right into our trap!"
This snack was contributed to Taquitos.net by the manufacturer.