Herr's Pennsylvania Dutch Style Potato Chips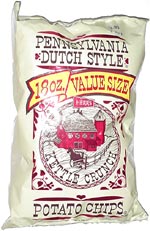 Shop for snacks: Herr's Online Store
Buy potato chips at Amazon.com
Note: This snack has been discontinued by the manufacturer.
Taste test: The first thing that I noticed about these was that they came in a really big bag — 18 ounces, and all for just $2.99. The next thing that struck me once I poured the bag into a bowl was just how big the chips were — they were large, unbroken and quite impressive. As for taste, they're pretty good chips, with a different flavor than other potato chips — different also from other kettle-cooked chips. You can taste a lot of potato, without very much much salt, and they do have a good crunch. People from Philly seem to have almost universal praise for Herr's chips.
Aroma: Potatoey smell.
Manufacturer: Herr Foods Inc.
Online store: Herr's Online Store
Buy potato chips at Amazon.com
From the package: "Taste the old-fashioned goodnewss of our Pennsylvania Dutch Style Potato Chips. What makes them so delicious? They're slow-cooked, so they have extra flavor and extra crunch. I know you'll enjoy them. In fact, you have my guarantee. — Jim Herr"
Trivia: You can fill up a chip bowl three to four times from an 18-ounce bag.
This snack was discovered by Marlo.