360's Pizza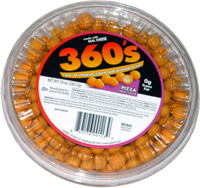 Taste: These small pretzel balls had a generous cheese coating on them and tasted good, but the cheese was kind of the standard cheddar or Cheez Whiz flavor, not really a flavor that specifically tasted like pizza. The small round shape makes it easy to eat a whole lot of these without realizing it. Most of our tasters thought these were pretty good. 360's are generally like reversed Combos (moving the cheese to the outside) but the pizza Combos taste more like pizza than these do.
Shop: Buy snacks at Amazon.com
Aroma: Good tangy cheddar smell, remotely like pizza.