Crown Jewels Delicious Mint Chocolate Truffles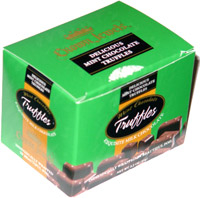 Taste: These medium-size truffles were just great. The texture was soft but not mushy, and the chocolate mint taste was just delicious, as good as chocolate mint can get. I could eat these all day long, and then continue through the night. I particularly love the fact that the suggested serving size is four pieces (so the eight pieces in this box are just two servings). If you can restrict yourself to eating just four, I am impreseed.
Shop: Buy snacks at Amazon.com
Aroma: Nice mint chocolate smell.