100 Calorie Mini Bites Cheetos Asteroids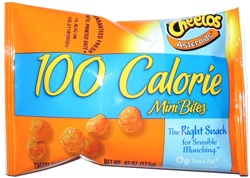 Taste: These mini cheese puff balls were smaller than your average spherical cheese puff. They made them smaller to allow more pieces to fit into the bag while still being within the 100 calorie limit. They tasted pretty much the same as cheese balls, but I found myself pouring them out of the bag in bunches of three or four balls at a time, instead of eating them individually, as they were too small for that. Five packs come in one box, and I still think these 100-calorie snacks are a good thing, especially for people who want to eat some snacks while they are on a diet. And they're good for packing in a lunch instead of taking a larger pack and figuring out the portions for a lunch sack.
Shop: Buy Cheetos at Amazon.com
Aroma: Smells like a bag of Cheetos.