American Value Four Finger Wafer Bar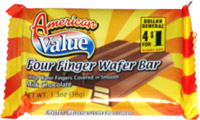 Taste: This bar is Dollar General's knockoff version of the popular Kit Kat candy bar, with four thin, detachable parallel milk chocolate bars, each with wafers inside. Some items in the Dollar General knockoff candy line say on the label "If you like [brand name] candy bars try [this]" but this one's label did not reference Kit Kat. I happen to love the taste of the chocolate in Kit Kat bars, and the chocolate in this bar was far inferior. Still chocolate, of course, but just not very good chocolate. Dollar General sells all of its candy bars for just a quarter. In this case, I would splurge for a real Kit Kat.
Shop: Buy snacks at Amazon.com
Aroma: An OK milk chocolate smell. Not the same as a Kit Kat.