Reese's Peanut Butter Heart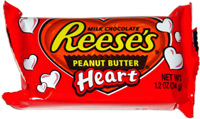 Taste: This Reese's was shaped like an elongated heart, very narrow and tall, about an inch and a half wide and three inches tall. The shape was a bit irregular, with wiggly edges, and opening at the top of the heart was kind of small. The taste was similar to a regular Reese's Peanut butter cup, but the peanut butter compartment was thicker, and the texture of the peanut butter seemed to be smoother, so it did have a slightly different taste profile.
Shop: Buy snacks at Amazon.com
Aroma: Same as a Reese's Peanut Butter Cup.