Nestle Crunch Hearts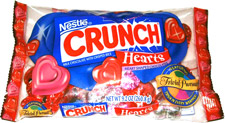 Taste: These heart-shaped chocolates had Nestle Crunch chocolate with embedded Rice Krispies inside. The chocolates were wrapped in three different foil colors — red, silver and pink. There weren't any differences in taste depending among the different color wrappers. If you've eaten a Nestle Crunch bar, you'll know what these taste like: Chocolate with a crunch caused by the embedded Rice Krispies. Since these were thicker than a normal Nestle Crunch bar, the taste was a bit different from the normal chocolate bar, but it didn't detract from the taste that much. A good snack for Valentine's Day.
Shop: Buy snacks at Amazon.com
Aroma: Smells like chocolate even through the colored foil.
Complete guide to Nestle Crunch

• All Nestle Crunch (15 snacks)

More snacks like this

Manufacturer

Nestle

Online store: Buy snacks at Amazon.com






From the package

"Trivial Pursuit. Ask her to be your valentine. Then ask her when Brazil was colonized." (Trivia questions from Trivial Pursuit are printed on the inside of the wrapper of each chocolate heart. So be careful when you open the wrappers.)