Reese's Big Cup with Nuts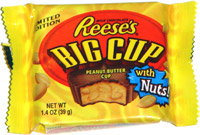 Taste: This version of the ginormous Reese's Big Cup had the same double-thickness and shape as the regular Big Cup, and from the outside, it actually looked the same. Inside, the peanut butter chamber contained whole peanuts in addition to the usual peanut butter, giving it some extra crunch and a slight twist on the usual peanut butter taste. It was a good snack, living up to the high standards set by Reese's.
Shop: Buy snacks at Amazon.com
Aroma: Just like a regular Reese's.