Burger Peanuts Snack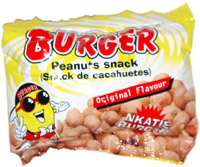 Taste: This bag contained peanuts with a thin, crispy wheat-based shell baked onto them. The shell was crunchy, the peanuts were soft, and the combination tasted very good. Unlike some similar prodcts, there was no special hot flavor added, so the main taste was the peanuts. This small bag quickly got emptied by our hungry tasters. Apparently "Burger" was just a name, as there were no beef-related flavors or ingredients.
Shop: Buy snacks at Amazon.com
Aroma: Smells like fresh peanuts.
More snacks like this

Manufacturer

Burger Food Industries (Ghana)

Online store: Buy snacks at Amazon.com






From the package

"Product of Ghana" ... "Keep in refrigerator after opening (Gardez dans le refrigerateur oprès ouverture)." ... "Ingredients: Peanuts, Wheat Flour, Sugar, Iodized Salt, Vegetable Oil"