100 Calorie Packs Oreo Thin Crisps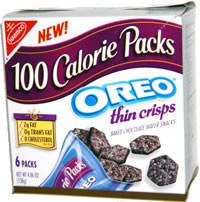 Taste: These are hexagon-shaped crackers that have white specks on them. They tasted like Oreo cookies, but without the extra calories. There was no creme filling, but the white specks kind of tasted like the creme filling. Each bag is 100 calories, which means you can eat a bag of these without filling up on calories and still get your Oreo cookie fix. The only problem is that you can't really dunk these in milk like you can with a regular Oreo. Well, you could, but the wafer is so small that you might lose it in the milk.
Shop: Buy Oreos at Amazon.com
Aroma: Smells like Oreos.