Reese's Pieces with Nuts!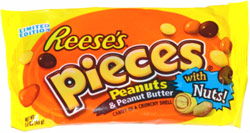 Taste: These were sort of like peanut M&M's, but instead of chocolate between the peanut and the shell, these had the same peanut butter-like substance used in Reese's Pieces. So you get a double dose of peanut, in theory. I like peanuts, and I like the ultra-sugary stuff in Reese's Pieces, but I didn't find this combination of the two to be anything special.
Shop: Buy snacks at Amazon.com
Aroma: Smelled kind of like suntan lotion.