Anna's Chocolate Mint Thins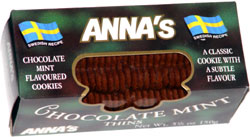 Taste: These are thin chocolate cookies shaped like nine-petal flowers. They're nothing elaborate, with no frosting, no filling. Just plain, thin cookie. And they were excellent. I tried them first with milk and then without. I liked them both ways, but surprisingly, they were even better without milk.
Shop: Buy snacks at Amazon.com
Aroma: Sharp chocolate mint smell.