J.R. Dippers Pasteurized Cheese Dip with Cracker Sticks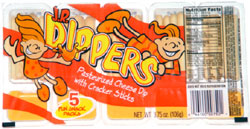 Taste: Each of these five packs contained six crackers sticks, each just over two inches long, and a dipping basin of yellowish orange cheese. These crackers were strong enough to easily dip into the cheese, plus tasty and just slighty sweet. The cheese was smooth and tasty, slightly tangy. The whole shebang cost just $1, so at 20 cents apiece, one or two of them would be an economical small meal or snack.
Shop: Buy snacks at Amazon.com
Aroma: Cheese smelled like an American cheese slice. Crackers smelled very good!