Bahlsen Pick Up Chocolate Noir/Puur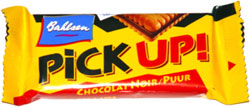 Taste: This snack is a sandwich with dark chocolate between two rectangular crackers (though they might be considered cookies). The chocolate layer is as thick as each of the crackers. The chocolate layer is very solid, so you have to bite a little extra hard once you get past the crackers to break through. The taste is very good. The one potential problem is that the crackers tend to make a lot of crumbs when you bite into them, and I hate getting crumbs all over my lap when I'm in a cramped airplane seat, because it's just about impossible to wipe the crumbs off.
Shop: Buy snacks at Amazon.com
Aroma: Very nice chocolate aroma.