Southwest Airlines Dry Roasted Peanuts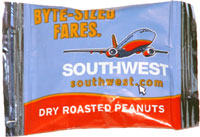 Taste: These peanuts are OK. They're pretty much just plain peanuts without the shells. If there's any salt or flavoring on them, it's not much. If you were on a long flight, starving for some food, these might slightly hit the spot, for a few minutes, anyway. But I'd recommend bringing a bag of potato chips on board for those kinds of situations.
Shop: Buy snacks at Amazon.com
Aroma: Good peanut smell, almost like peanut butter.
More snacks like this

Manufacturer

King Nut Company

Online store: Buy snacks at Amazon.com






From the package

"Byte-sized fares." ... "Ingredients: Peanuts, Dry Roasted with Salt and Tapioca Dextria" ... "Produced in a facility that produces peanuts and other nuts." [Editor's note: Good to know!]