Brannigans Smoked Ham and Pickle Flavor Thick Cut Potato Crisps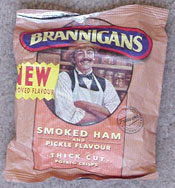 Taste: These have the same thick, crunchy cut as Brannigans Roast Beef and Mustard Flavor, but the flavor is a bit too pickley for my taste. They're a bit on the gross side.
Shop: Buy potato chips at Amazon.com
Aroma: Very strong and not entirely pleasant pickle odor.
More snacks like this

Manufacturer

KP Foods (United Kingdom)

Online store: Buy potato chips at Amazon.com






From the package

"If this pack fails to reach the standard you expect from Brannigans, please send the pack along with details of where and when you purchased it to the address below for a full refund. Your statutory rights will be unaffected."