Hostess Chocolate Cake Twinkies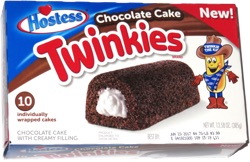 Taste: Twinkies finally did it — after flirting with chocolate a few times by filling a Twinkie with chocolate creme and coating a Twinkie with chocolate, they actually replaced their signature yellow cake with a chocolate one.
The chocolate Twinkies appeared to be the same size and shape as the regular ones, with a very dark brown color and the same three filling holes on the bottom, providing more contrast in this case.
I bit in to find that there was lots of creme filling and a pretty good taste, but frankly, the cake just didn't provide all that much chocolate. Certainly less than those two previous chocolate versions. It didn't taste the same as a yellow Twinkie, but if I'd eaten one of these in the dark without knowing what it was, I doubt I would have correctly named the intended flavor as chocolate.
Shop: Buy snacks at Amazon.com
Aroma: Very mild chocolate cake smell, befinitely different from the yellow Twinkies.