Tastykake Kandy Bar Kakes S'mores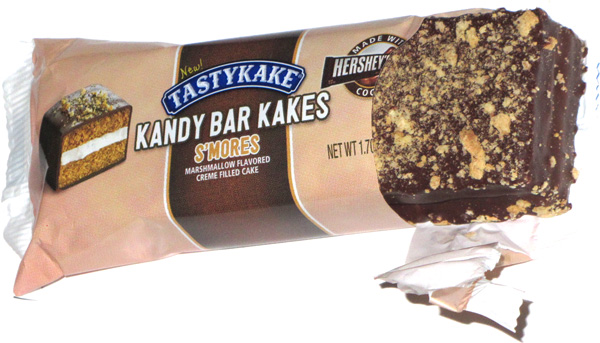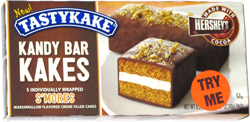 Taste: These rectangular snack cakes looked really nice from the outside, with the smooth milk chocolate surfaces covered by a sprinkling of crushed graham cracker. The interior consisted of two graham cracker-colored cake layers surrounding a central white creme layer. They had a nice soft feel and a good mix of chocolate, graham and creme tastes. However, they were a major fail in the s'mores department, as s'mores require marshmallow. The filling seemed just like standard creme filling, not actual marshmallow or anything that tasted close, and two-thirds of a s'more does not a s'more make.
Shop: Buy snacks at Amazon.com
Aroma: Good graham cracker and chocolate smell.
From the package
"5 individually wrapped s'mores marshmallow flavored creme filled cakes" ... "Made with Hershey's cocoa" ... "The Hershey's Trademark and trade dress are used under license."
Share your comments on this snack here. For general snack discussion, please visit our Chip Talk forum