Special K Brownie Bites Fudge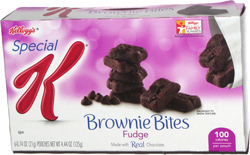 Taste: This box contained six 100-calorie packs of tiny Brownie Bites, with about a dozen Bites in each one. We've seen lots of snacks labeled as "bites" over the years, but these were among the smallest, as the thin pieces were way smaller than what could comfortably be eaten by most people as one bite. They were soft, definitely not remotely crunchy, but they really didn't really feel much like brownies, more like bits of cookie dough. They were better than Special K's Blondie version of Brownie Bites, as they actually tasted pretty good, a lot like good brownies. They also went well with milk. But the taste was the only good thing here, as there was lots of wasteful packaging for not very much snack, and the texture fell far short of the experience of eating a good brownie or even a bite of one.
Shop: Buy snacks at Amazon.com
Aroma: Really smells like brownies. Nice.