7 Days Soft Croissant Peanut Butter Creme & Chocolate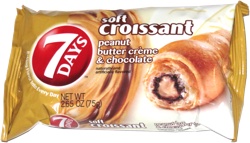 Taste: This croissant promised a different filling than the PB&J version that I previously reviewed, but I was surprised to find that they were actually pretty similar in taste. I bit in to find that the soft, creamy filling, with a peanut butter center surrounded by chocolate, could probably have passed for peanut butter and jelly if it had been labeled that way. And this is coming from someone who loves peanut butter and chocolate (as demonstrated by the 99 kinds of Reese's reviewed). Anyway, it was good, with a creamy feel and a taste that was sweet but not overly so. Not the greatest croissant texture in the world, but still soft and moist for a packaged product.
Shop: Buy snacks at Amazon.com
Aroma: Good peanut butter and chocolate smell.