7 Days Soft Croissant with Chocolate Cream Filling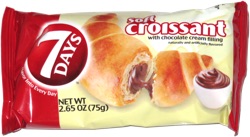 Taste: This croissant followed the same formula as the PB & J and PB and chocolate versions, with a filling pocket inside the large croissant.
When I reviewed the Peanut Butter Creme & Chocolate one, I noticed that it didn't taste strongly of chocolate and almost passed for PB&J. In this case, I could definitely taste the chocolate. It tasted and felt like chocolate pudding. And it's hard to dislike anything that resembles chocolate pudding. Pretty good.
Shop: Buy snacks at Amazon.com
Aroma: Mild chocolate smell.