Sara Lee Snickerdoodle Cakes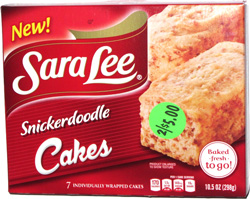 Taste: This box contained seven rectangular cakes (the odd number was a bit unusual). The actual cakes were quite a bit darker in color than the light ones pictured on the box, with a dark beige/slightly orange color overall, with many darker spots throughout. Each individually wrapped cake came in a clear wrapper with the Sara Lee logo repeated many times. I bit in to find that the cake was soft and quite moist while being fairly dense as well. The taste was very nice, as it was mildly cinnamon like a coffee cake, but without the single dense area of cinnamon sugar on top. Instead, the dark spots throughout seemed to distribute the cinnamon more evenly. The lucky 7 cakes turned out to be very good!
Shop: Buy snacks at Amazon.com
Aroma: Very nice. Reminds me of a Coffee Cake Jr.
From the package
"Baked fresh to go!"
Share your comments on this snack here. For general snack discussion, please visit our Chip Talk forum