Sara Lee Golden Crème Cakes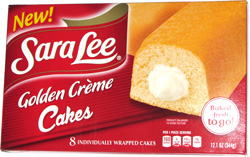 Taste: This clone of Twinkies generally resembled the original, with the same shape, a golden yellow color and three creme holes on the bottom. The box contained eight individually wrapped cakes. There was a Twinkie-like taste, but not an exact match, and the moistness level seemed lower than Twinkies as there was less creme filling (and less than it looked like in the picture on the box). The cakes weren't too dry, just different — not a bad at all. They did not promise that they would be exactly the same as Twinkies (these knockoffs never seem to even acknowledge the existence of the original) so this could be a perfectly good alternative if you want to save a few cents and still have a Twinkie-like experience.
Shop: Buy snacks at Amazon.com
Aroma: Similar to Twinkies. Not quite the same.
From the package
"Product of Mexico" ... "Sara Lee is a registered trademark of Sara Lee TM holdings LLC used under license."
Share your comments on this snack here. For general snack discussion, please visit our Chip Talk forum