Sara Lee Devil's Food Creme Cakes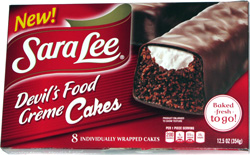 Shop for snacks: Buy snacks at Amazon.com
Taste: These snack cakes had a somewhat unusual shape, as they didn't follow any of the established shapes for Devil's food cakes and were basically shaped like bricks. The picture on the box showed a trapezoidal profile, but the actual cakes didn't look like that; their sides were vertical. Also a bit unusual was the decision to put the creme filling on top rather than somewhere in the middle. But when it comes to Devil's food, as long these had moist cake, creme filling and a good milk chocolate coating (check, check and check!), none of those other details were all that important. The shape actually worked quite well, since the fairly narrow width and height it easy to bite into while holding the wrapper to keep chocolate off the fingertips. Very good — we could eat these all day long.
Shop: Buy snacks at Amazon.com
Aroma: Good chocolate smell, typical of Devil's Food.
From the package
"Baked fresh to go!"
Share your comments on this snack here. For general snack discussion, please visit our Chip Talk forum