Mrs. Freshley's Oreo Brownie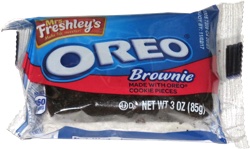 Taste: This large, thick, rectangular brownie had a bumpy-looking top that was presumably the promised Oreo bits, including some subtle white areas that were presumably from the creme filling.
I bit in to find a very soft feel that wasn't particularly moist (but not dry in a bad way) and had no crunch at all from the Oreo elements. The taste was good, maybe slightly Oreo-like as brownies go, but I might not have even noticed the Oreo connection if it hadn't been labeled that way. As with most packaged brownies, it lacked a real soft-but-crunchy brownie texture, but it also had a different texture than most other packaged brownies, with their moistness. The wrapper said that it was two servings, but let's get real, I ate the whole thing. Just like Oreo cookies, it was good with a big glass of cold milk!
Shop: Buy Oreos at Amazon.com
Aroma: Definitely some hints of Oreo amid this good brownie smell.