Market Basket Golden Creme Cakes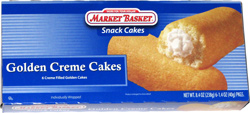 Taste: With the disappearance of Twinkies (along with all of the other Hostess snack treats, plus Drake's and Dolly Madison) from store shelves, New England supermarket powerhouse Market Basket has stepped in to fill the void by vastly expanding their stock and selection of store-brand snack cakes. I found this box in one of several huge displays at their largest store. It's a good thing that they did this, because these Golden Snack Cakes filled the need for Twinkies quite well. The major difference was that these were individually wrapped, instead of being in twin packs. This seemed like a pretty big box to hold just six (imitation) Twinkies, but otherwise I had no complaints. The cakes were moist and sweet and delicious. Hard to eat just one at a time, even with the individual wrapping.
Shop: Buy snacks at Amazon.com
Aroma: Sweet, just like Twinkies.
From the package
"6 Creme Filled Golden Cakes" ... "Market Basket Golden Snack Cakes are sure to become household & lunchbox favorites all throughout New England! Our line of Snack Cakes are sweet, delicious and baked to perfection."
Share your comments on this snack here. For general snack discussion, please visit our Chip Talk forum