Little Debbie St. Patrick's Day Mint Creme Rolls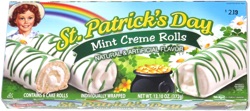 Taste: This box contained just six snack cakes, which was fewer than I would normally expect for a box of this size. Each one was pretty big and had a jelly roll type of internal structure, alternating between a white frosting and a yellow (but very light yellow) cake, with an exterior that was mostly white frosting, with a pattern of thin green wiggles.
I bit in to find that the cake was very sweet overall and had a good kick mint. Not anything worth waiting all year for St. Patrick's day to try, but pretty good.
Shop: Buy snacks at Amazon.com
Aroma: Nice sweet mint smell.