Little Debbie Peppermint Swiss Rolls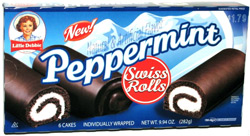 Taste: I spotted this package in the supermarket and immediately knew that I had to buy it, as chocolate and mint is the perfect combination, yet it's one that's rarely done with snack cakes. So kudos to the folks at Little Debbie for even thinking of this. The taste was pretty good, as you really can't go wrong with a combination of devil's food cake, creme, mint and milk chocolate coating. It was moist and tasty, though nothing extraordinary to make this stand out from other chocolate mint snacks.
Shop: Buy snacks at Amazon.com
Aroma: Pretty good chocolate mint smell.