Little Debbie Cloud Cakes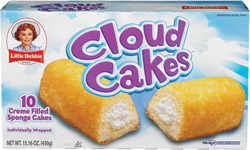 Taste: It didn't take much thinking after seeing this box of snack cakes to realize that they were Little Debbie's knockoff version of one of our favorites, Twinkies. People who like Twinkies liked these too, and some people actually thought that these tasted better. They sure looked the same in every way we could figure, right down to the three holes on the bottom. (As a side note, probably my greatest memory from all my years of school was the field trip to the Hostess/Wonder Bread factory in Natick, Mass., and I still remember marveling at the machine that inserted the creme filling through the holes on the bottom.) We've previously had some other Twinkies knockoffs from Mrs. Freshley's and R.D. Oskins with similar results.
Shop: Buy snacks at Amazon.com
Aroma: Just like Twinkies.