Hostess Ho Ho's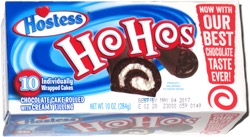 Taste: Hoho's are basically short, oval-profile tubes (squished flatter than the one pictured on the box) with a jelly roll-like interior alternating between chocolate cake and white cream, with a milk chocolate coating over the whole outside. They might be the smallest of all the individually wrapped Hostess snack cakes, but they packed a whole lot of flavor into that small amount of space.
Even one bite was a veritable explosion of rich chocolate and cream, yet the whole cake can be three or four good-size bites. Great!
Shop: Buy snacks at Amazon.com
Aroma: Great creamy chocolate smell.