Hostess Peanut Butter Ho Ho's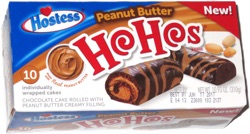 Taste: This small cake followed the same general outlines as the original version of Ho Ho's, but they added some PB stripes to the milk chocolate exterior and used a peanut butter creme filling instead of a white creme in the jelly roll-like interior.
I bit in to find a great soft, moist feel and a really nice combination of tastes, with lots of very smooth peanut butter, along with plenty of chocolate. It was very sweet, but having a glass of cold milk with it balanced things out nicely.
Shop: Buy snacks at Amazon.com
Aroma: Nice sweet peanut butter and chocolate smell.