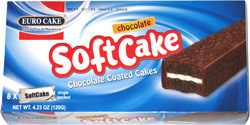 Shop for snacks: Buy snacks at Amazon.com
Taste test: This box contained eight individually wrapped, brick-shaped cakes, each in a plain foil wrapper. I opened my first wrapper to find that from the outside, each cake appeared to be all chocolate, with a bumpy, uneven chocolate coating; the stripe of creme filling shown in the picture could not be seen prior to biting in. The proportions of the cakes were not as shown in the picture, as they were about three times as wide as they were thick, versus the much thicker one in the picture, with about 4:3 proportions.
I bit in to find that the cake was soft but fairly dry, and there was indeed a creme filling, but it was a very thin one. The milk chocolate coating on the outside provided some moisture, and without that we might be talking super-dry here, but even with it, this was not a moist cake. OK, not great.