Keebler Filled Pretzel Bites Peanut Butter and White Fudge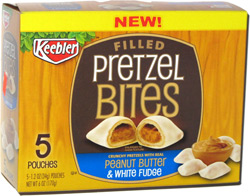 Taste: This box contained five small bags, each containing six or seven pretzel nuggets. The actual nuggets looked messier than the nicely shaped ones pictured on the box, as the white fudge coating was oddly flat on one side (not neatly flat as in the photo) and the coating looked irregular in thickness, with the coating missing in some areas. Looks aside, the nuggets were pretty good, with a nice mix of sweet and salty from the fudge coating and pretzel, plus some peanut butter. They weren't great, as the crunch was fairy minimal and more saltiness would have helped to provide a nicer contrast, but still not a bad mix of tastes.
Shop: Buy snacks at Amazon.com
Aroma: Mild peanut butter smell.
Share your comments on this snack here. For general snack discussion, please visit our Chip Talk forum