Combos Cheddar Cheese Pretzel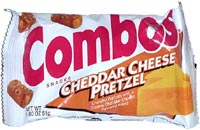 Taste: Combos are hollowed-out thick pretzel tubes with stuff inside them. It doesn't really matter what's in a particular combo, because all of the different flavors taste pretty much the same.
This particular bag is cheddar flavor. There's a nice balance between pretzel and cheese in these. You'd expect the cheddar flavor to easily overpower the pretzel, but that's not the case. You can actually taste the pretzel, and it tastes kind of like you spread some spreadable cheddar cheese on it, sparingly. Pretty good. They don't dry out your mouth too much, but I would still recommend having these with a beverage.
Shop: Buy snacks at Amazon.com
Aroma: Smells like Cheez-Its, sort of a Nacho cheese aroma.