360's Tomato Basil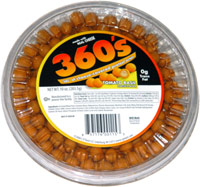 Taste: These were small spherical pretzels covered with a layer of soft cheese (kind of like Combos in Bizarro world), with a milder cheese taste in this case than with the Cheddar, Pizza and Jalapeno varieties. A number of the pieces were conjoined into doubles, like Siamese twins. The taste was pretty good, with a mild tomato flavor to mix in with cheddar cheese. There are a number of ways that you could eat these, including sucking off the cheese and then eating the pretzel, but the best way was to bite right into the cheese and hear the pretzel crunch.
Shop: Buy snacks at Amazon.com
Aroma: Mild tomatoey, cheesy smell.