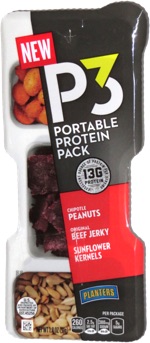 Shop for snacks: Buy beef jerky at Amazon.com
Taste test: This version of the Portable Protein Pack had three compartments, filled with chipotle-flavored peanuts, beef jerky and sunflower seeds. The peanuts were tasty and mildly seasoned, but if they hadn't been labeled as "chipotle" I don't think I would have guessed it. Just not that much heat. The jerky was very dark and cut into small pieces of various shapes. It had a very dry feel but was pretty good once it softened up. The sunflower seeds didn't claim any special seasoning, but they were surprisingly tasty.
Pretty good overall, but this pack had the same fundamental problem as the blue pack that we reviewed before, in that it had a portable structure but no easy way to be consumed on the go.