Taste 'n Tell Pastry Puffs Three Fruits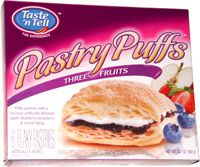 Taste: These square-shaped flaky pastries were about an inch thick and had two thin layers of filling near the bottom of the pastry — the top one with creme and the bottom one combining apple, blueberry and strawberry. There was also a light sprinkling of sugar on top. The taste was OK, as the filling was fairly tasty (though there really wasn't much of it), and the flaky pastry was quite ordinary and nothing special. The real reason that I bought this was because I liked the "Taste 'n Tell" name.
Shop: Buy snacks at Amazon.com
Aroma: Good, mild sweet fruity smell, but I couldn't specifically smell strawberry, blueberry or apple. Maybe a little bit of blueberry.