Wegmans Fruit & Grain Bars Strawberry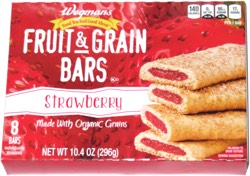 Taste: These bars were basically extra-long Newtons, with a similar composition but about three times as long for each piece, and packaged in a foil wrapper like a bar, not stacked together like cookies.
I bit in to find that the dough around the outside wasn't quite as sturdy as Newton cookies had a slightly gritty feel, and the filling was even softer than Newtons, with a real jelly-like feel. It didn't taste that strongly of strawberry, as it was more of a generic fruit taste, but it was sweet and smooth and good.
Shop: Buy snacks at Amazon.com
Aroma: Sweet and fruity, but not really that much like strawberry.